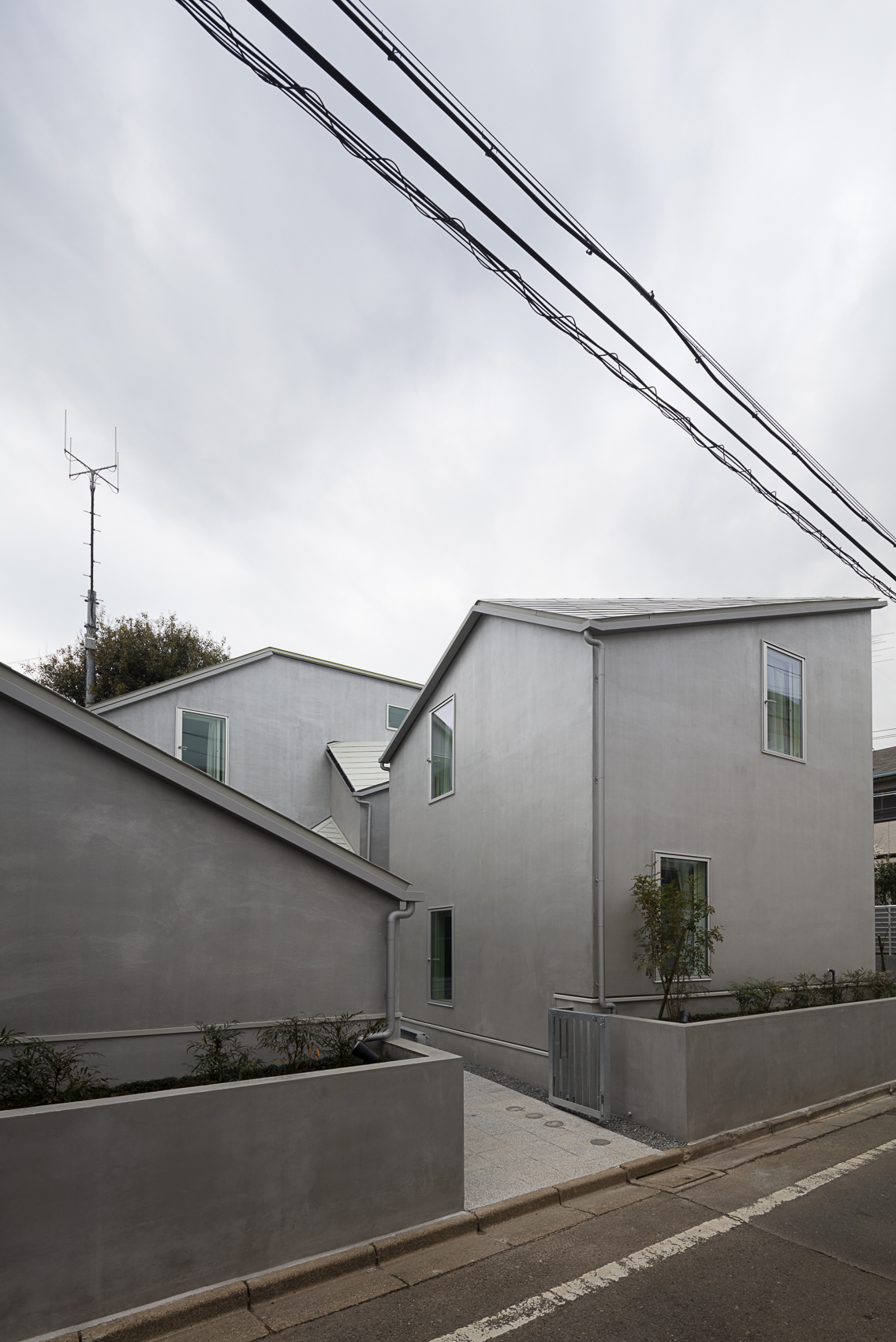 ---
Site
Tokyo
---
Program
a house
---
Site Area
255.78 m2
Building Area
129.94 m2
Total Floor Area:
212.44 m2
---
Completed
February. 2019
---
Principal Architect:
Taku Sakaushi
Architects:
Yusuke Sagawa
---
Structural Engineer
Yoshiharu Kanebako
Shunji Urui
---
Constructor
Kikuchi Kensetsu
---
Photo
Hiroshi Ueda
---
This is a house for six children who can not live at home..
There are six bedrooms for the children on the second floor and a dining room, a living room, wet areas and living-support staff's room on the first floor. The most important element to consider in designing this House is how to maintain a comfortable distance between the children and living-support staff who look after the children. To this end, the House is designed to create on-and-off visual angles from wherever the staff is, whether in the kitchen where it spends most of the time or walking around inside the House, to watch the children on the second floor or in the garden. The children feel safe when they know the staff is watching, but sometimes they want to stay away from the staff's attention. The spatial structure that provides the on-and-off angles is required to address their ambivalent desire.
In addition to the interior design requirement, there is an environmental condition to consider that the House is located in a quiet residential district and the site is elevated about 1.5m above the road.
To keep its external appearance relevant to the surrounding houses in terms of size, multiple-roof design is chosen instead of a single big roof. It successfully provides a "scale-adjustment effect" and also contributes to making each bedroom more than a simple box and creating individuality by angling the ceiling on the diagonals of a rectangular room. Moreover, the elevation is utilized to create different levels on each floor, three on the first floor and two on the second floor, each of them connected with gently-sloped staircases. Each level has a different flooring color to visualize the change in height, creating a flow and movement between the floors. The same theme, the creation of a space where the transition of landscape is felt through this kind of flow and movement, is applied in the design of "Movement and Scenery/Kagurazaka House" which was completed in April 2019.
---
親に恵まれない6人の子供が集う子供の家である。2階に6つの子供たちの個室、1階に食堂、居間、水周り、指導者の宿直室、が配置されている。子供の家の設計上最も重要なポイントは親代わりの指導者が子供達と適度な距離感を持てることである。指導者はキッチンにいることが多いのだがそこからはもとより、移動しながら子供達がいる庭や2階の様子が見えがくれするように計画している。子供達は指導者に見られているという安心感を求めると同時に時として指導者の束縛を遠ざけたいというアンビバレントな欲求を抱いているためこうした見えがくれする空間が求められるのである。さてこうしたプログラム的な条件と同時にこの建物の環境的な条件としては閑静な住宅地であること敷地が道路から1.5メートル程度高いところにあることがあげられる。そこで住宅地のスケールに合わすべく建物の屋根を分割した。この分割はスケールの調整だけではなく各個室を単調な箱にすることなく長方形の部屋の対角線で折れ曲がる天井の形を生み出し、各個室を個性的なものにしている。また道路と敷地の段差を利用して1階の床面のレベルを3つ、2階のレベルを2つ作り緩やかな階段で結んだ。さらにレベルごとに床の材料を変えて高さの変化を視覚化した。これによって各階に流れと動きが生まれている。この流れに乗り動きながら風景の変化を感じ取る空間を作ることは2019年4月にできた神楽坂の家/運動と風景と同じテーマとなっている。