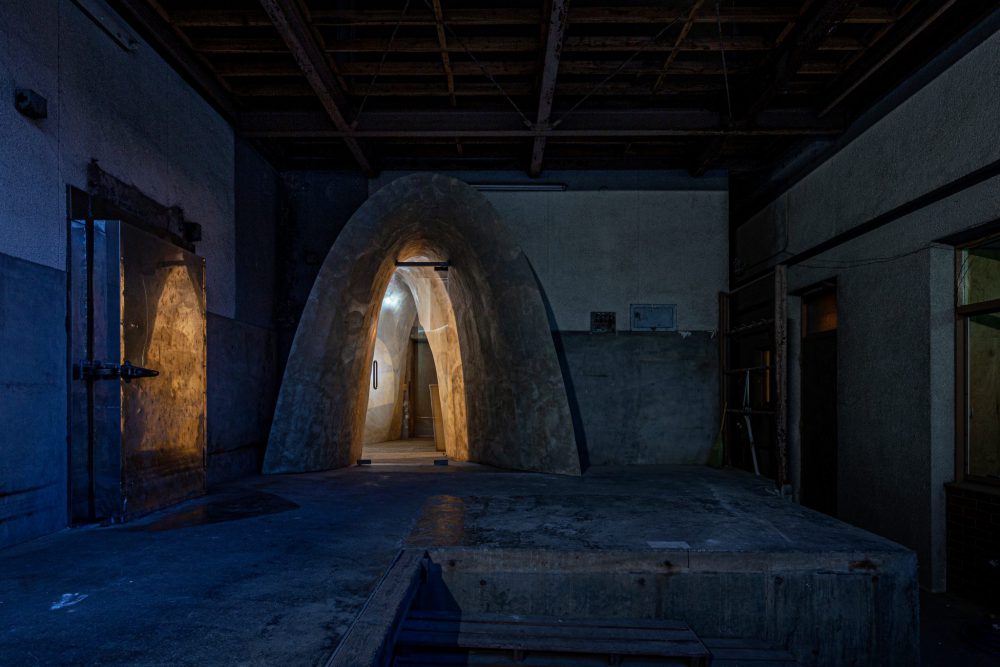 ---
Site:
Fujiyoshida
---
Program:
gallery+residence
---
Site Area:
–
Building Area:
–
Total Floor Area:
256.1㎡(gallery)
126.4㎡(residence)
---
Completed:
Jun. 2019
---
Principal Architect:
Taku Sakaushi
Architects:
Tamon Kozu(gallery)
Saori Toriumi(residence)
---
Structural Engineer:
Kentaro Nagasaka
Computational Design:
Shuta Takagi
---
Constructor:
Takiguchi Kentiku + O.F.D.A.
---
Photo:
Masashige Akeda(gallery)
Sakaushi Lab(residence)
---
We converted an icehouse ("himuro" in Japanese) that stored ice made at the former Fuji Ice Factory next door (which we renovated into office in 2015) into a gallery. The gallery has been designed for exhibitions (e.g. an exhibition of new works of locally produced textiles) and free use by artists staying under artist-in-residence programs. The concrete walls of the himuro had been insulated with styrofoam of about 20cm thick, lined with 6mm plywood with cedar duckboards attached onto it. Abundant styrofoam insulation was very beneficial for the conversion. In addition, we decided to use the duckboards as they were as the makeup of the interior, and we repaired the parts where they had been destroyed or lost. The himuro was divided into five chambers by concrete walls, four of which were connected through small doors. This time, I wanted to visualize the flow of people moving around the four chambers by applying my architectural concept of "flow and stagnation" that has been taking form in the last few years. We came up with a tunnel-like passage with catenary curves in a cross-sectional view and a starfish-like (i.e. four radiated arms) figure on a floor plan, which is built with FRP (fiber reinforced plastic). Unfortunately, we could not find a company that could produce a shape like this, so we decided to create it by ourselves. We made a mold with plywood and styrofoam, applied coating for exfoliation, placed a glass fiber sheet, and applied plastic resin. It took about three months to complete. This FRP tunnel is the visualization of human movement and, at the same time, gives you a feeling as if you are walking through the river-bed water of Mt. Fuji.
---
旧富士製氷コンバージョンの隣にあった製氷工場で作った氷を貯蔵していた氷室をコンフヴァートしてギャラーリーとした。ここでは地元で制作される織物の新作を展示したりアーティストインレジデンスで滞在するアーティストが自由に使えるように計画されている。氷室の内部はコンクリート躯体の内側に20センチほどのスタイロフォーム、その内側に6ミリのベニヤそして杉板のスノコが貼られていた。スタイロの断熱材はギャラリーコンバートしても必要である。加えてスノコも内装の化粧としてそのまま使えるだろうと判断してスノコが取れてなくなっている部分を補修した。氷室は5つに壁で分割され、そのうち4つは小さなドアで繋がっていた。そこでこの4つのつながりの動線を視覚化しようと考えた。ここ数年考えている流れと淀みの建築化である。そこでヒトデのような(4本足の)平面を断面的にはカテナリー曲線で結びその形状をFRPで作成することにした。こうした造形を制作する会社を探すことができず見よう見まねで自分達で作ることにした。ベニヤとスタイロフォームで型を作りその上に剥離剤を塗ってからグラスファイバーシートを載せてその上にプラスチックの樹脂を塗っていった。約3ヶ月かけて制作した。このFRPトンネルは人の動きの視覚化であると同時にこの光がうっすらと透過するこの空間を通ると水の中を潜り抜けたような気分を味わえる。これは富士山の伏流水の中を歩くという幻想的な体験を演出したものでもある。